Crepes
Easy to make and fun to eat.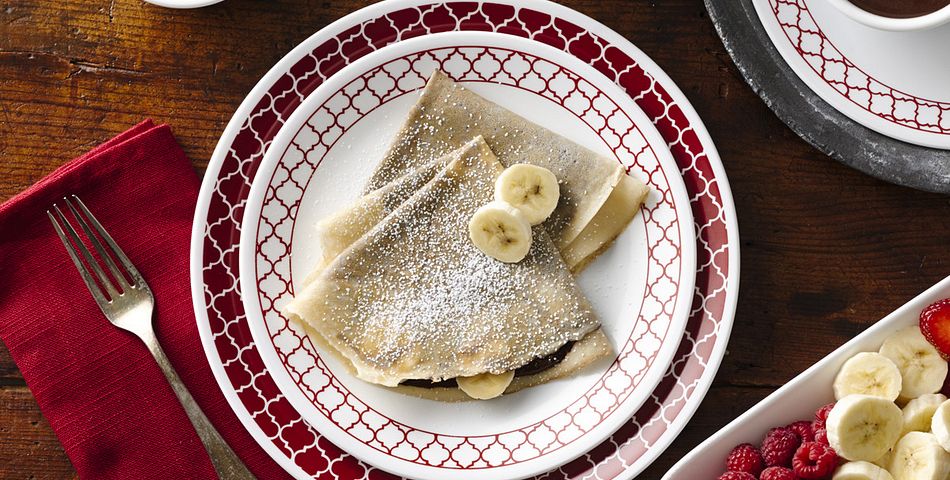 YIELD: 8 crepes
PREP TIME: 15 minutes
TOTAL TIME: 15 minutes
Ingredients
1 cup all-purpose flour
3/4 cup milk
1/2 cup water
2 eggs
3 tablespoons unsalted butter, melted
1/4 teaspoon salt
Instructions
In a blender, place all ingredients. Cover and blend 15 to 20 seconds or until smooth. Heat a nonstick skillet over medium-high heat. Pour about 3 tablespoons batter into skillet. Tilt and swirl pan to get a thin, even circle of batter. Cook about 30 seconds or until bottom is golden brown. Using a thin spatula, loosen edge and turn over. Cook 10 more seconds. Carefully transfer to a plate. Repeat with remaining batter. Serve immediately, or layer between sheets of waxed paper and store in a resealable plastic bag in the refrigerator up to 3 days or in the freezer up to 2 months. Thaw at room temperature before using.
Variations:
SWEET CREPES. Add 2 tablespoons sugar.
CHOCOLATE CREPES. Add 1/4 cup sugar, 1/4 cup unsweetened baking cocoa and 1/4 cup more milk.
SAVORY CREPES. Add 1/4 cup loosely packed fresh herbs, such as parsley, basil or cilantro.