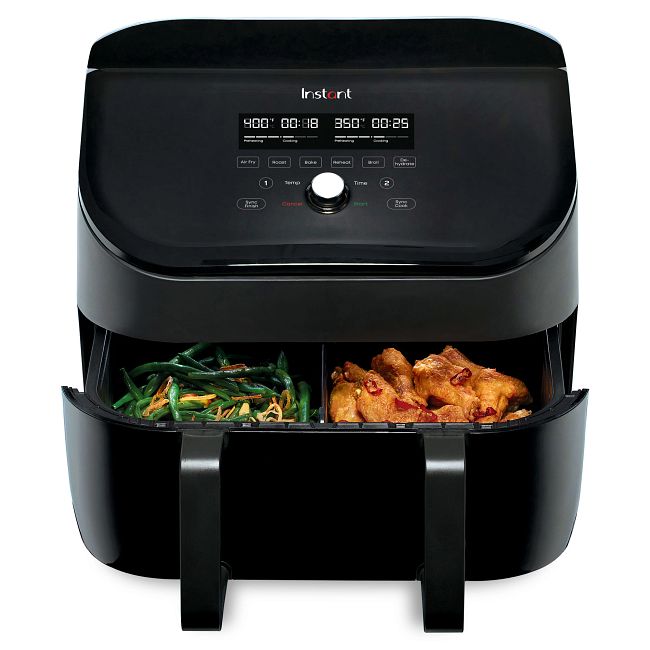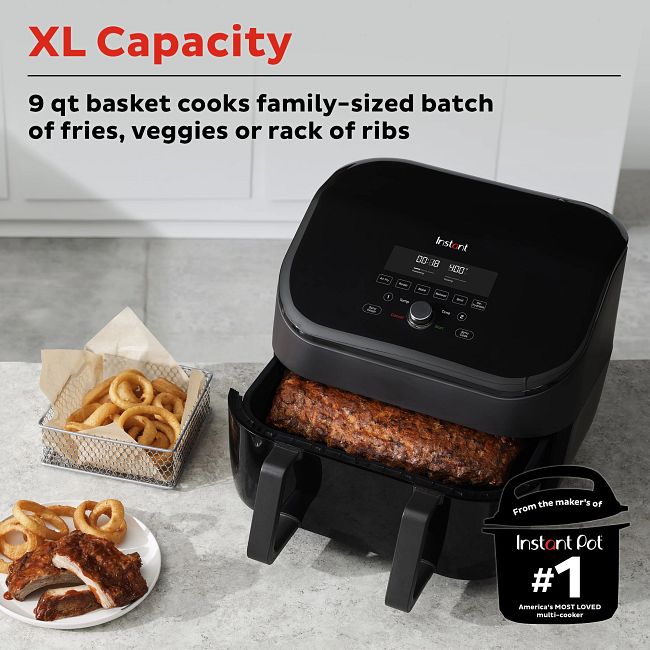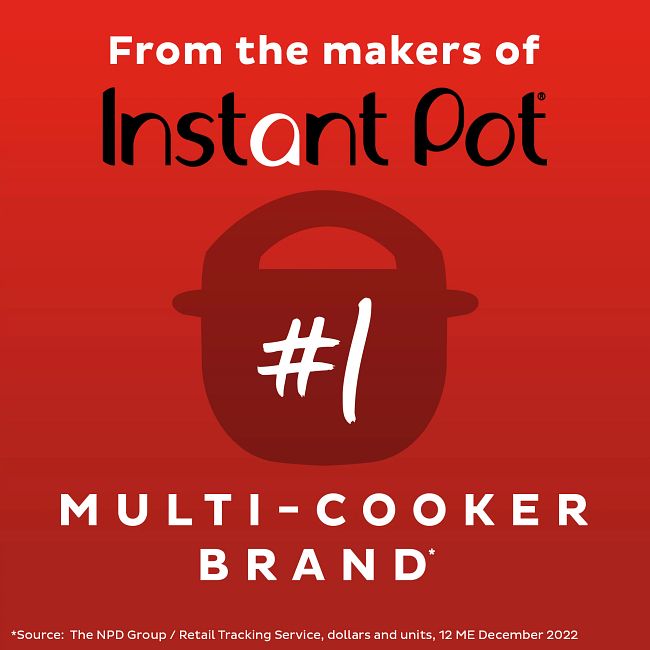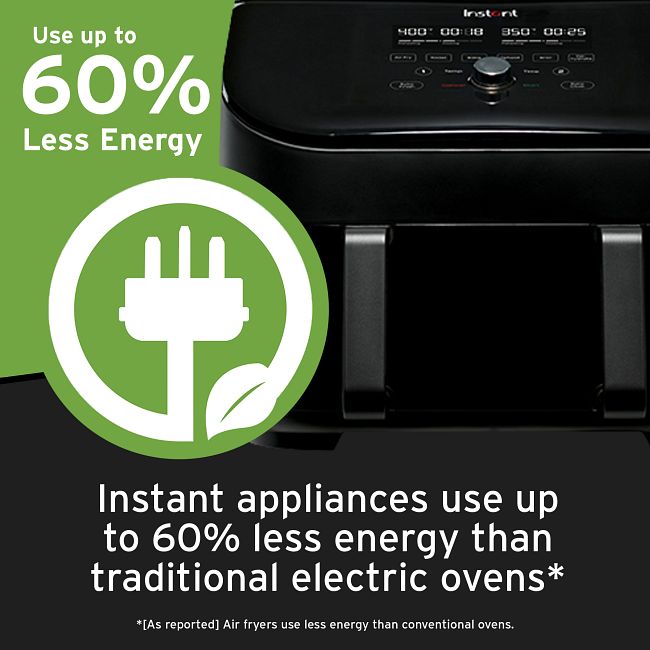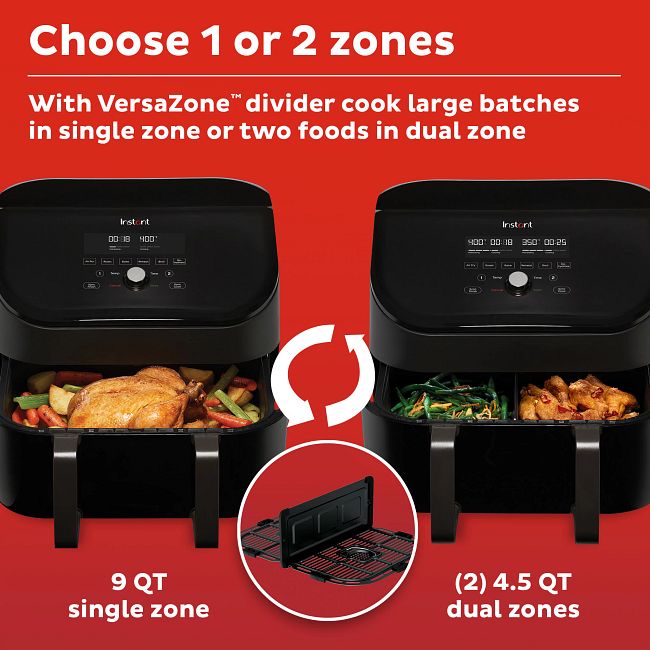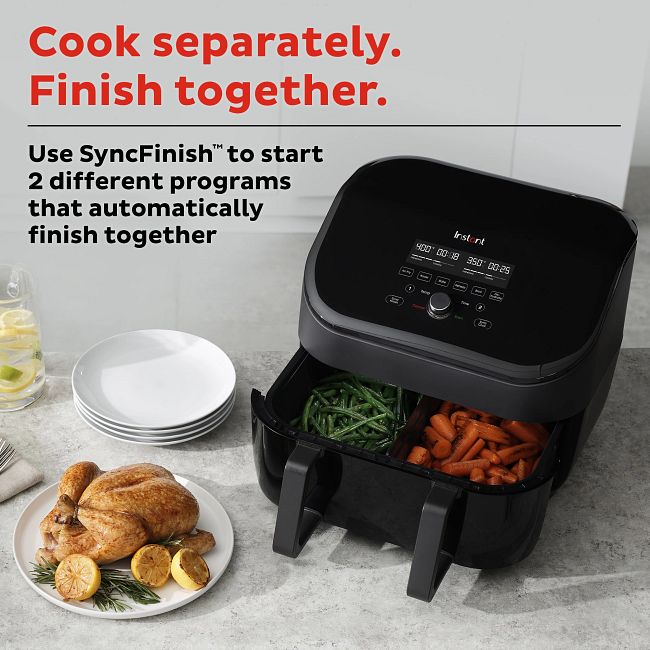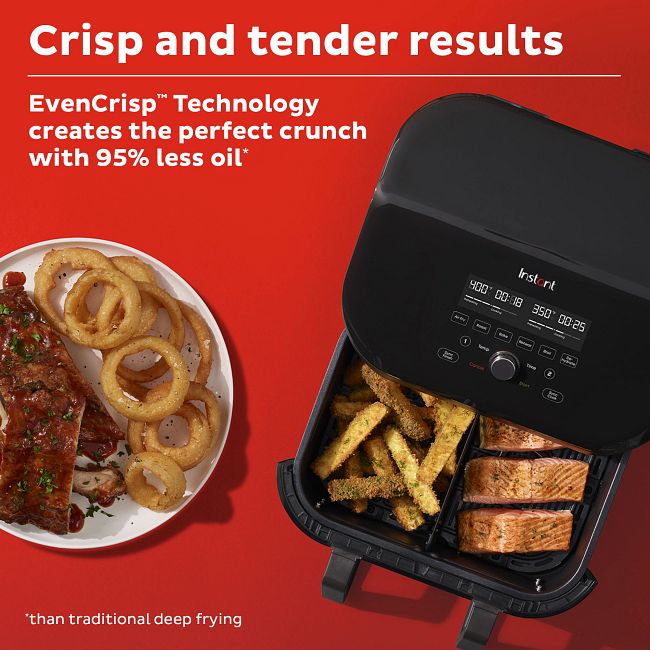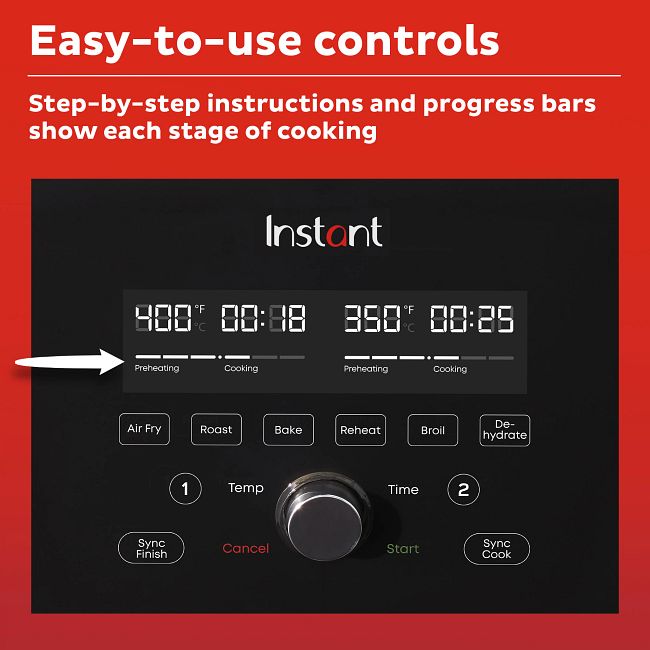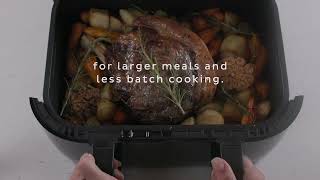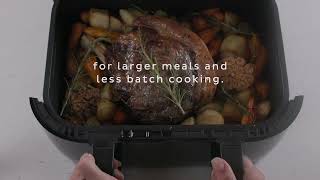 Instant® Vortex® 9-quart Air Fryer with VersaZone™ Technology
Adjustable air fry basket to cook one large or two smaller portions at the same time.
LIMIT of 4 UNITS!
US $189.95

was $199.99
In Stock
Product Details
This Instant™ Vortex® Air Fryer is amazingly versatile, with VersaZone™ technology. Cook in a single 9QT basket for large family meals, or switch to dual 4.5QT baskets for two separate portions at the same time. SyncCook and SyncFinish automatically match settings for cooking or match the finish time between the two baskets. EvenCrisp™ air flow technology delivers crispy, tender results every time with 95% less oil compared to deep frying. 6 cooking programs give you one-touch access to easy recipes, but let you customize for yourself. And because the cooking basket, cooking tray and divider are non-stick and dishwasher safe, clean-up is a snap. Download the User Manual
8-in-1 cooking: air fry, bake, roast, broil, reheat or dehydrate, SyncCook, SyncFinish
VersaZone™ technology: cook in single 9QT or dual 4.5QT zones, with separate controls for each
SyncCook: automatically cook two portions with the same settings
SyncFinish: automatically finish cooking at the same time for two types of cooking
EvenCrisp™ technology: the crunch and tenderness of deep-frying with 95% less oil
Quick one-touch meals: 6 customizable cooking programs
Little to no preheating: from frozen to golden in minutes
Easy to use: step-by-step instructions show each stage of cooking
Large capacity: cook up to 8 portions for large families, parties and meal prep
Easy cleanup: dishwasher-safe non-stick cooking basket, cooking tray and basket divider
Built-in safety: =Overheat Protection™, auto-off and more
1700 watts, 120 V~ 60 Hz, ETL Certified
Dimensions
15.9'' length x 15.1'' wide x 12.3'' height
*All measurements are approximate.
PFAS
This product contains PTFE.
PTFE, PFA and FEP are all fluoropolymers that create a non-stick surface on the food-contact surface of cookware and bakeware products. Although inert solids, PTFE, PFA and FEP are classified as PFAS substances and must be disclosed.
Given that PFAS is a broad categorization that includes thousands of fluorochemicals, we recommend visiting the below source to learn more about the different types of PFAS substances.
Updated: December 30, 2022
One (1) Year Limited Warranty
This One (1) Year Limited Warranty applies to purchases made from authorized retailers of Instant Brands Inc. ("Instant Brands") by the original appliance owner and is not transferable. Proof of original purchase date and, if requested by Instant Brands, return of your appliance, is required to obtain service under this Limited Warranty. Provided the appliance was used in accordance with the use & care instructions, Instant Brands will, in its sole and exclusive discretion, either: (i) repair defects in materials or workmanship; or (ii) replace the appliance. In the event that your appliance is replaced, the Limited Warranty on the replacement appliance will expire twelve (12) months from the date of receipt. Failure to register your product will not reduce your warranty rights. The liability of Instant Brands, if any, for any allegedly defective appliance or part will not exceed the purchase price of a comparable replacement appliance.
What is not covered by this warranty?
Products purchased, used, or operated outside of the United States and Canada.
Products that have been modified or attempted to be modified.
Damage resulting from accident, alteration, misuse, abuse, neglect, unreasonable use, use contrary to the operating instructions, normal wear and tear, commercial use, improper assembly, disassembly, failure to provide reasonable and necessary maintenance, fire, flood, acts of God, or repair by anyone unless directed by an Instant Brands representative.
Use of unauthorized parts and accessories.
Incidental and consequential damages.
The cost of repair or replacement under these excluded circumstances.
EXCEPT AS EXPRESSLY PROVIDED HEREIN AND TO THE EXTENT PERMITTED BY APPLICABLE LAW, INSTANT BRANDS MAKES NO WARRANTIES, CONDITIONS OR REPRESENTATIONS, EXPRESS OR IMPLIED, BY STATUTE, USAGE, CUSTOM OF TRADE OR OTHERWISE WITH RESPECT TO THE APPLIANCES OR PARTS COVERED BY THIS WARRANTY, INCLUDING BUT NOT LIMITED TO, WARRANTIES, CONDITIONS, OR REPRESENTATIONS OF WORKMANSHIP, MERCHANTABILITY, MERCHANTABLE QUALITY, FITNESS FOR A PARTICULAR PURPOSE OR DURABILITY.
Some states or provinces do not allow for: (1) the exclusion of implied warranties of merchantability or fitness; (2) limitations on how long an implied warranty lasts; and/or (3) the exclusion or limitation of incidental or consequential damages; so these limitations may not apply to you. In these states and provinces, you have only the implied warranties that are expressly required to be provided in accordance with applicable law. The limitations of warranties, liability, and remedies apply to the maximum extent permitted by law. This limited warranty gives you specific legal rights, and you may also have other rights which vary from state to state or province to province.
Product Registration
Please visit www.instantpot.com/support/register to register your new Instant Brands™ appliance. Failure to register your product will not diminish your warranty rights. You will be asked to provide the store name, date of purchase, model number (found on the back of your appliance) and serial number (found on the bottom of your appliance) along with your name and email address. The registration will enable us to keep you up to date with product developments, recipes and contact you in the unlikely event of a product safety notification. By registering, you acknowledge that you have read and understand the instructions for use, and warnings set forth in the accompanying instructions.
Warranty Service
To obtain warranty service, please contact our Customer Care Department by phone at 1-800-828-7280 or by email to support@instantpot.com. You can also create a support ticket online at www.instantpot.com/support. If we are unable to resolve the problem, you may be asked to send your appliance to the Service Department for quality inspection. Instant Brands is not responsible for shipping costs related to warranty service. When returning your appliance, please include your name, mailing address, email address, phone number, and proof of the original purchase date as well as a description of the problem you are encountering with the appliance.
June 15, 2021