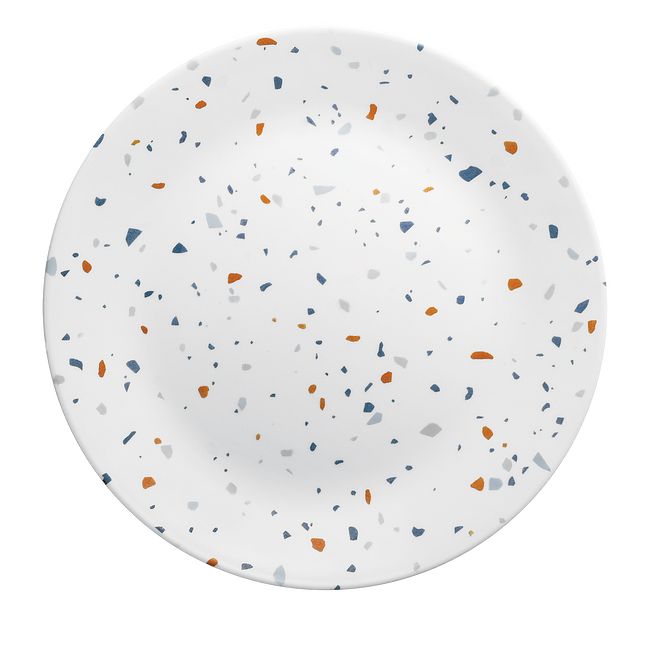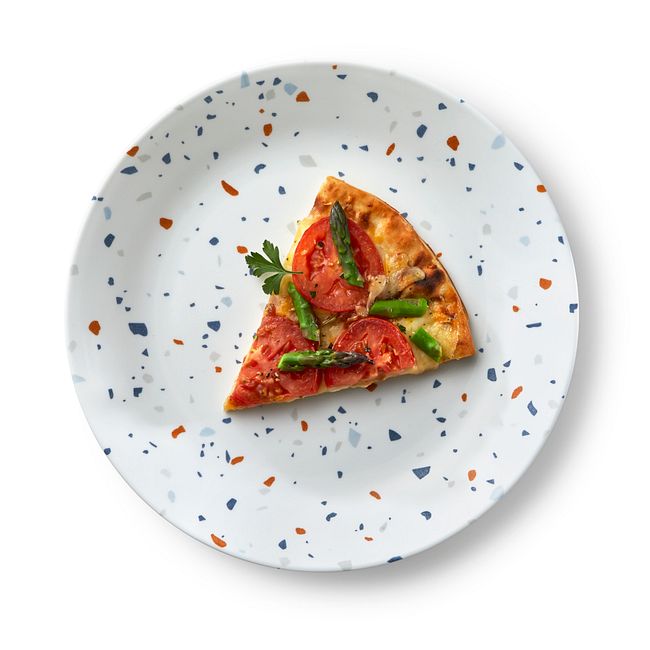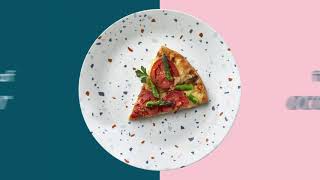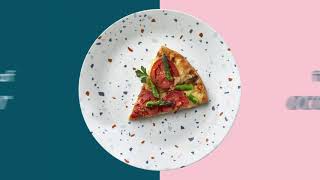 Corelle® Terrazzo Azul 10.25" Dinner Plate
This casual Italian-Inspired pattern makes this dinner plate perfect for any meal. Terrazzo Azul is part of our beautiful Signature Dinnerware Collection.
Inspired by a stroll down an Italian walkway, this casual pattern is a perfect foundation for any meal. Mix, match and layer them effortlessly with pieces in our Winter Frost White or Amalfi Azul collections.
Nothing-else-like-it, triple-layer-strong glass highly resists chips and cracks
Lightweight and easy to handle
Ultra-hygienic, non-porous and easy-to-clean glass
Plates stack compactly taking up half the space of ceramic dishes
Dishwasher, microwave and preheated-oven safe
Crafted with pride in Corning, New York
3-year limited warranty
Dimensions
10.25'' diameter
*All measurements are approximate.
Pyrex
SAFETY AND USAGE INSTRUCTIONS
Read these instructions carefully and save them for future reference.
PYREX® Glassware Safety and Usage Instructions
As with all glass products, you must exercise an appropriate degree of care, especially when cooking food at high temperatures. There are three primary risks associated with using glassware for cooking.
Breakage due to sudden temperature change applied to the glassware.
Breakage due to impact if the glassware is dropped or knocked against a hard object.
Burning when handling hot glassware.
WARNINGS
FAILURE TO FOLLOW THE WARNINGS BELOW MAY RESULT IN PERSONAL INJURY OR PROPERTY DAMAGE, OR MAY CAUSE YOUR GLASSWARE TO BREAK OR SHATTER IMMEDIATELY OR LATER.
Avoid Sudden Temperature Changes to your Glassware. To avoid the risk of breakage due to a sudden temperature change to your PYREX glassware, DO NOT add liquid to hot glassware, place hot glassware on a wet or cool surface, or handle hot glassware with a wet towel, wet potholder or other wet cloth. DO NOT place hot glassware directly on a countertop or any metal surface, or in the sink. Allow hot glassware to cool on a cooling rack, dry potholder or dry cloth. Be sure to allow hot glassware to cool as provided above before washing, refrigerating or freezing.
Oven Must be Preheated Before Inserting Glassware. DO NOT insert glassware into oven for cooking or reheating until the oven has been preheated to the desired temperature.
DO NOT use on or under a flame or other direct heat source, including on a stovetop, under a broiler, on a grill, in a toaster oven, or in a multi-cooker or electric pressure cooker.
LITTLES BAKING DISHES ARE DESIGNED FOR USE IN COUNTERTOP OVENS. To confirm that the dish is safe for countertop oven use, check the label on the bottom of the dish:
Add Liquid to the Bottom of Glassware when Cooking Certain Foods. When preparing food that may release liquid, add a small amount of liquid sufficient to cover the bottom of the glassware prior to cooking.
Avoid Handling Hot Glassware (including ware with silicone gripping surfaces) without appropriate protection for your hands, such as dry potholders or a dry thick towel.
Avoid Microwave Misuse. DO NOT: use glassware to microwave popcorn or foods wrapped in heat-concentrating material (such as special browning wrappers); heat empty or nearly empty glassware in the microwave; or overheat oil or butter in microwave (use minimum cooking time).
Be Careful When Handling Broken Glass. Broken glass pieces may be extremely sharp and difficult to locate.
Avoid Using or Repairing Damaged Glassware. Handling your glassware without an appropriate degree of care could result in breakage, chipping, cracking or severe scratching. DO NOT use or repair any glassware that is broken, chipped, cracked or severely scratched.
DO NOT drop or hit glassware against a hard object.
DO NOT strike utensils against glassware.
HOW TO USE AND CARE FOR YOUR PYREX GLASSWARE
PYREX glassware can be used for cooking, baking, warming, and reheating food in microwave ovens, and in preheated conventional and convection ovens. Permanent discoloration may occur if decorated storage is used in oven.
PYREX glassware is dishwasher safe, and may also be washed by hand. When using dishwasher, load dishes to avoid bumping against other items during dishwashing cycle. When cleaning your PYREX glassware, use non-abrasive cleansers. If scouring is necessary, use only plastic or nylon cleaning pads, again with non-abrasive cleansers.
This product is intended for normal household use only; it is not intended for camping, industrial or commercial use.