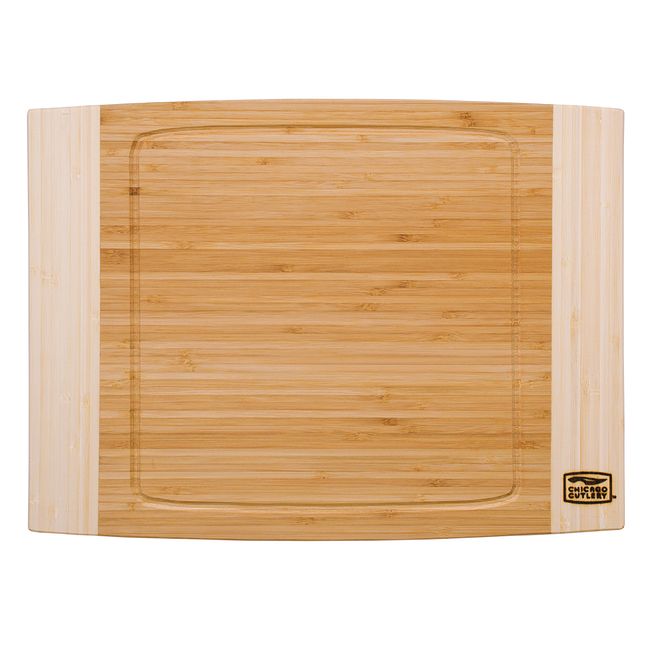 Chicago Cutlery® Woodworks 12" x 16" Bamboo Cutting Board
Environmentally-friendly bamboo board is a contemporary choice for smaller jobs.
US $16.50

was $22.00
In Stock
Product Details
Super-tough, quick-growing bamboo provides a durable, knife-saving space for kitchen chopping tasks and is environmentally friendly, too. Use the grooved side to cut juicy meat, then flip it over to cut veggies or bread or to serve up a snack.
Easy-to-clean, environmentally-friendly bamboo
No-mess groove to catch juices
Reversible: use one side for meats and the other for fruits and vegetables
Won't dull knives
Hand washing recommended
Dimensions
16'' wide x 12'' deep
*All measurements are approximate.
Chicago Cutlery Cutting Boards Use & Care
Hand wash with hot soapy water.
For tougher jobs, sprinkle salt on ½ of a lemon and use as a scouring pad.
Hand washing is recommended.
CHICAGO CUTLERY cutting boards are reversible to reduce possible food contamination. Use one side for meats and the other side for fruits and vegetables.
Protect counters, use as a serving board, and transport food from cutting to cooking.
The Polyworks™ cutting boards are dishwasher safe.
Full Lifetime Warranty
Corelle Brands promises to repair or replace, or at Corelle Brands' option, exchange for an item of equal or greater value any Chicago Cutlery® knife with defects in material or workmanship for the lifetime of the product. This warranty does not cover damage resulting from negligence, misuse, abuse, institutional/commercial use or purposes other than normal household use. This warranty does not cover wood blocks or cutting boards. Should a warranty problem develop, contact Corelle Brands Consumer Care: https://www.chicagocutlery.com/customer-care-center . KEEP THE PRODUCT. You may be asked to return it. Incidental and consequential damages are expressly excluded from this warranty. Some jurisdictions do not allow this exclusion or limitation, so the foregoing exclusion or limitation may not apply to you. This warranty gives you specific legal rights and you may also have other rights, which may vary from jurisdiction to jurisdiction.
Note: see separate Prime by Chicago Cutlery warranty.
CHICAGO CUTLERY is a registered trademark of Corelle Brands Holdings Inc, used with permission by Corelle Brands LLC, Rosemont, IL 60018.
© 2020 Corelle Brands LLC, Rosemont, IL 60018