Strawberry Banana Bread
Add a new fruit to this classic bread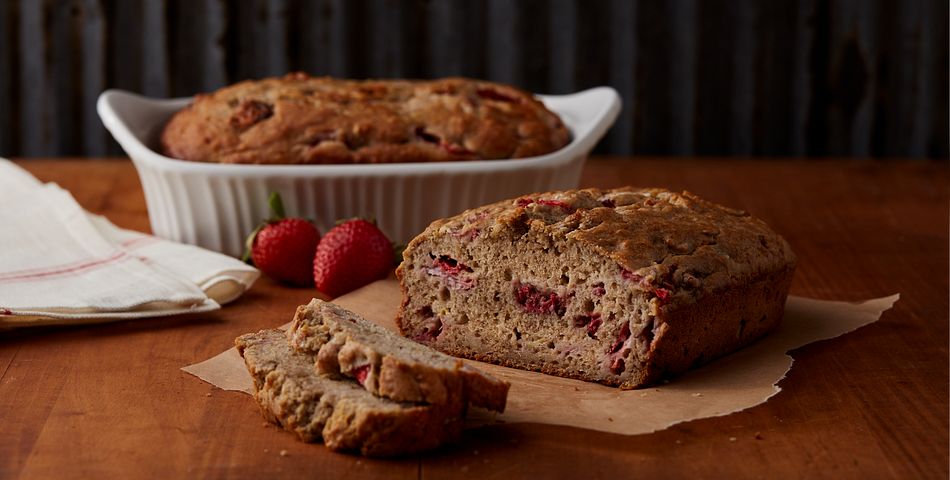 Ingredients:
2 cups all-purpose flour
3/4 teasponn baking soda
1/2 teaspoon salt
3 large very ripe bananas
2 eggs, beaten
1 cup sugar
1/2 cup butter, melted
1/4 cup plain yogurt or sour cream
1-1/2 teaspoons vanilla
2 cups fresh strawberries, slice
1 tablespoon all-purpose flour
Prep Time: 15 minutes
Total Time: 3 hours 10 minutes
Instructions:
Heat oven to 375°F. Spray two 1-quart rectangular baking dishes or one 2-quart rectangular baking dish with nonstick baking spray.
In a medium bowl, mix 2 cups flour, the baking soda and salt.
In a large bowl, mash bananas until almost smooth but still chunky. Stir in eggs, sugar, butter, yogurt and vanilla. Fold in flour mixture, stirring just until incorporated (batter should be lumpy, with no dry spots).
Toss strawberries with 1 tablespoon flour; fold into batter. Pour batter into baking dish(es).
Bake 15 minutes. Reduce oven temperature to 350°F; bake 20 to 25 minutes longer (for the small loaves), 25 to 30 minutes longer (for the large loaf) or until bread is golden brown and a toothpick inserted in center comes out clean.
Cool 10 minutes; remove from pan(s) to cooling rack. Cool 2 hours before slicing.